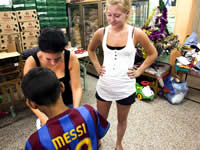 Our Spanish school offers exceptional opportunities to study Spanish in an immersion setting and to volunteer in a variety of interesting places that will enhance both your language skills and your resume. Our volunteer program provides the unique opportunity to live and work in Argentina. You will experience first-hand the country's rich cultural diversity and its many-faceted heritage. Through the program, our school and the volunteers are able to make a contribution to Argentine society and to bridge the gap between foreign visitors and Portenos (the inhabitants of Buenos Aires).
Why volunteer?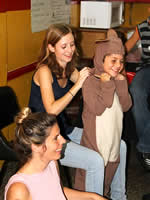 You will gain international living and work experiences allowing you to better compete in today's job market.
You will broaden you work view by experiencing another culture in-depth.
You will refine important professional skills.
You will improve your language skills.
You will build a network of international friends.
You will share the benefits of your skills and knowledge with others.
Who can participate?
The program is open to any applicant who sincerely wants to share his/her experience and skills and who meets the listed requirements - professionals, new graduates, craftsmen, retired people, students... all are welcome to apply.
Types of Volunteer Placements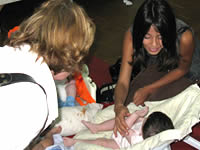 Participants may choose either or both the field and preferred location options of the Program. Possible fields of interest include social work, education, tourism, cultural work and catering.
How long are the commitments?
The minimum time needed for the program is 8 weeks. There is a mandatory language study period of 4 weeks and a minimum volunteer work period of 4 weeks.
If you are thinking of participating for a period of longer than 180 days, we recommend that you extend the language study period.
Minimum commitment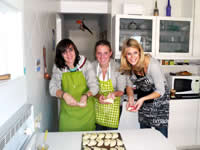 A minimum of eight weeks is needed to complete the total commitment of the volunteer program. The first 4 weeks are dedicated to study and the volunteer placement continues for 4 weeks more.
During the Spanish language study phase you can choose to stay in our Residence or with a host family.
During the volunteer work phase you will be staying at one of our student flats with other students and volunteers.