Why study Spanish in Buenos Aires: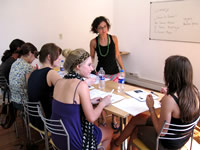 Our Spanish Language School in Argentina offers the exceptional opportunity to study Spanish while immersed in Argentine culture.
Other activities, such as Tango classes, workshops on Latin American Culture and extra daily Student Activities, make our Spanish school a distinctive educational destination in this incredible city, filled with excitement and culture. Buenos Aires is said to be the ¨Paris of South America¨ with a European influence and charm combined with a Latino flare!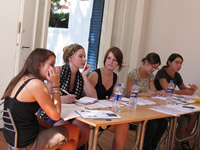 Cosmopolitan Buenos Aires is known for its beautiful architecture and the tango which originated in the brothels of the city in the 19th century. It has 48 diverse districts, or barrios which include, La Boca, an Italian neighborhood with brightly painted houses, San Telmo with its flea markets and tango avenues, and Palermo, an area filled with parks, great restaurants and bars. A city rich with culture, Buenos Aires yearly receives more than 5 million tourists coming from all around the world. This city has something for everyone making it the best destination when looking to learn and experience a new language and culture! Buenos Aires will dazzle you with its sophistication, the exuding warmth from the people, the charm of the Tango and the beauty of the Spanish language.
Carlos Gardel said it best in the timeless classic Mi Querido Buenos Aires:
Mi Buenos Aires querido,
cuando yo te vuelva a ver
no habrá más pena ni olvido.
Hoy que la suerte quiere que te vuelva a ver,
ciudad porteña de mi único querer,
y oigo la queja de un bandoneón
dentro del pecho pide rienda el corazón.
My beloved Buenos Aires,
When I see you again,
There will be no more sorrow and forgetfulness.
Today, good fortune wills that I see you again,
Port city of my only love
I hear the sad song of the accordion
And in my chest, my heart yearns to be set free.