Our school offers you customized tuition at the level and pace especially suited to your personal goals. Our school is known for its interactive, communicative and personal teaching methods. All standard programs include four hours of private or group instruction per day. Additional hours can be arranged as well.
Free daily student activities are included in all programs (cooking, dancing, music, lectures on Argentinean Culture and History, movies, a welcome snack) as well as all lesson materials, unlimited use of our internet cafe, a student discount card, a certificate and a walk in the nearby neighborhood to get you acquainted with the city, the local area and the transportation system. The cultural courses are the most popular because it allows you to improve your Spanish while listening to and participating in activities all directed towards learning in a dynamic environment where you will learn about Latin American and Argentinean culture. One hour every day is included for free in your program!
Interactive, Communicative Teaching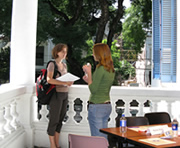 Successfully implementing the interactive method totally depends on the personal attention your teacher is able to give you. Therefore, our groups are small and all courses are (super) intensive. The make-up of the group is determined according to the students' abilities; the first day of the course begins with an oral and written placement test.
Levels
There are four levels (with consequent sublevels), in accordance with the curriculum of the
Instituto Cervantes
and their equivalents in the Council of Europe. Each level takes between five and eight weeks to complete in full.
Beginners (A1+A2)
Intermediate (B1)
Advanced (B2)
Superior (C1+C2)