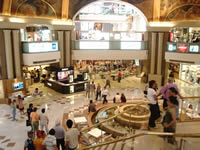 Buenos Aires is a small piece of heaven for those who love to shop for clothes. You can shop till you drop in this city that has thousands of stores at your disposal. There is an advantage for those people with a hard currency like the Euro, because the Argentinean Peso is decreasing in its value.
Every part of Buenos Aires has its own style and its own kinds of ´tiendas´. Here are some of the most important neighborhoods and shopping streets listed.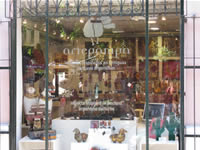 Calle Florida. This is a large pedestrian strip that has all kind of shops. The Galerias Pacificos shopping mall is also located on this street. Calle Florida is always full of shoppers, businessmen and tourists.
Avenida Santa Fe. This shopping street is even longer than Calle Florida, but a bit less pedestrian friendly. This Avenida is just as popular as Calle Florida and you will have no problem finding everything you are looking for.
San Telmo neighborhood. This neighborhood is famous for its beautiful and tiny antique shops. They are mostly located around the Defensa Street where the tourist market on Sunday also takes place.
Once neighborhood. Take a walk over to "Once" for cheap clothing and other knickknacks. The quality of the goods will vary though so just be mindful with your purchases. Being in this part of the city will give you the impression that you are walking down a Bolivian or Peruvian shopping street. It is full of buyers, sellers, music and liveliness.
Palermo Viejo neigborhood. In this neighborhood all of the shops are hip and happening. A range from the most famous and the not-yet-famous designers all have their shops in this part of the city. It has kitschy and tacky boutiques, fashionable fancy stores; little shops where starting designers show their creations, and loads of delicious restaurants to choose from.
Libertad. This is a great spot if you are in search of some beautiful jewelry. Head down south of Calle Corrientes to see a large display.
Shopping malls
Abasto Shopping center/Alto Palermo
Open: Every day from 10 a.m. to 10 p.m.
Address: Corrientes and Anchorena, Buenos Aires, Argentina.
Telephone: 5411 5777-6500
Website: www.altopalermo.com.ar
How to reach: Subway line D, Abasto station.
Description:
This shopping center is large, fancy, and upscale. It has hundreds of shops displaying leather goods, clothing, sportswear and accessories, to international clothes brands like Lacroix and Dior. There are also many little restaurants and fast food places if you want to take a break from a long day of shopping and dine out. If one of your shopping partners is bored, there is a cinema complex located there so you can check out the latest flicks.
Unicenter
Open: Every day from 10 a.m. to 10 p.m.
Address: Parana and Panamericana, Martinez, Buenos Aires, Argentina.
Telephone: 5411 4733-1166
Website: www.unicenter.com.ar
How to reach: By a free bus tour leaving from the San Martin square.
Description:
This shopping center is said to be the largest in Latin America. It has hundreds of shops, both the more expensive ones and the cheaper ones. The mall is approximately 1 hour outside the city center of Buenos Aires. At the San Martin there is a free tour bus that leaves daily to bring tourists to this mall. It leaves at noon and returns around 6 p.m. A definite advantage is that you will receive a delicious three course welcome lunch. You will certainly need the fuel for a full day of shopping. This shopping center has also a huge cinema complex and many eateries.
Galerias Pacificos
Open: Mon-Sat from 10 a.m. to 9 p.m, Sun from noon to 9 p.m.
Address: Corner of Calle Florida and Avenida Cordoba, Buenos Aires, Argentina.
Telephone: 5411 5555-5110
Website: www.galeriaspacifico.com.ar
How to reach: Subway line B, Florida Station.
Description:
This is the shopping center where most tourists and locals go due to its large variety of shops and its central location. It is situated on one of the most important streets of Buenos Aires, Calle Florida. The shopping mall is quite classy where famous Argentinean artists have beautifully painted the high ceilings. From Friday to Sunday there are free tango shows to watch starting at 8 p.m.